Interested in learning how to become a medical assistant? Some medical assistant programs offer both medical assisting and medical office assisting certifications. Learn about what the medical assistant and medical office assistant do on a day-to-day basis. Then choose a medical assisting program and learn the skills that will make you a successful medical assistant. Lastly, land the job and start a rewarding career as a medical assistant.
What a Medical Assistant Does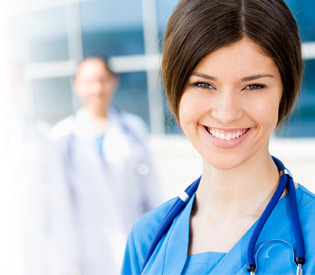 According to the U.S. Bureau of Labor Statistics, medical assistants complete administrative and clinical tasks in the offices of physicians, hospitals, and other healthcare facilities. Medical assistants typically do the following:
Record patient history, exams and personal information
Measure vital signs including temperature, height and weight
Help the physician with patient exams
Schedule patient appointments
Prepare blood and urine samples for laboratory testing
Enter patient information into computer medical record software
What a Medical Office Assistant Does
According to the U.S. Bureau of Labor Statistics, medical office assistants perform secretarial duties using specific knowledge of medical terminology and hospital, clinic, or laboratory procedures. Duties may include:
Scheduling appointments
Billing patients and processing insurance claims
Compiling and recording medical charts
Writing reports and correspondence
Choose a Medical Assisting Program
Most medical assistants will train in a vocational school or community college certificate program. These programs can take as little as 12 months to complete as a full-time student. Make sure the vocational school or community college you attend is flexible, offers career services and financial aid.
Flexible – Find a vocational school or community college that meets your needs whether it is day or evening classes.
Career Services – The vocational school or community college should have a Career Services team dedicated to graduates and alumni that are looking for a career. Students should learn job search techniques, resume writing, interviewing skills and specific career-related strategies.
Financial Aid – The vocational school or community college should help you fill out the Free Application for Federal Student Aid (FAFSA) form to find out if you are eligible for any grants, loans or scholarships to help pay for tuition costs.
Skills for a Successful Medical Assistant
There are many skills a medical assistant will need to learn during their career. The successful medical assistant has good analytical skills, is detail oriented, has good interpersonal and sharp technical skills.
Analytical skills - Medical assistants must be able to understand and follow medical charts and diagnoses. Much of a medical assistant's job is coding and billing, analytical skills come in handy with this work.
Detail oriented - Medical assistants need to be precise when recording patient information so being detail oriented is an important skill for a medical assistant.
Interpersonal skills - Medical assistants need to be able to discuss patient information with doctors and patients. They often interact with patients who may be in pain or in distress, so having interpersonal skills can help the medical assistant keep a patient calm during a crisis.
Technical skills - Medical assistants should be able to use clinical instruments to take vital signs and assist with minor surgeries.
Landing the Medical Assisting Position
Once you have gained the skills you need to become a successful medical assistant and graduated from an accredited medical assisting program, it is time to land the medical assisting position.
The Resume – Make sure to have all your personal information at the top of your resume so the human resources manager knows how to contact you for a telephone or in-person interview. List your experience in chronological order and explain any gaps in your work experience. If you just graduated from school, make sure to list the customer service and clerical experience you gained even if it was just during your education at the vocational school. Focus on metrics and positive outcomes from your work experience. By doing this, you will show the organization what you have done in the past and what you bring to the table.
The Cover Letter – Make sure to tailor this to the job description and medical facility. Don't just print out a stock cover letter and send it to everyone on your list. Tell them why you are the perfect candidate for the medical assisting position. What can you bring to the job that is different than your competition? Always end your cover letter with a request for a telephone interview.
The Telephone Interview – This is usually the time for the human resources manager to find the strong candidates to pass on to the hiring manager. Make sure you are polite and professional. Take the time to research the medical facility and ask some smart questions that will get you noticed and passed on to the hiring manager. Always ask what the next steps are or if you should contact them within a specific time period.
The In-Person Interview – Make sure you show up on time and looking professional. You will want to make a good first impression. Prepare a few questions you think the hiring manager will ask and write positive answers to the questions (stay away from negativity as this will raise red flags with the interviewer). Don't memorize answers as they can sound rehearsed, instead list a couple of bullet points you want to touch upon when a specific question comes up. Do some research about the medical facility so you can ask intelligent questions at your interview.
The Thank You Email – Always make sure you follow up every interview with a thank you email that shows you are interested in the next steps of the process. Thank the hiring manager for taking the time to interview you and add anything you may have missed during the interview. End with a request for next steps.
Does this interest you in becoming a medical assistant? Medical assistants continue to be in high demand as they become more relied upon as an important asset to the medical team and as physicians' practices switch to electronic records. Here, in the Capital Region, there are many potential opportunities for career placement. Medical Assisting Degree and Certificate Programs are available at all three Mildred Elley Campuses! Those campuses include Albany, NY, New York, NY and Pittsfield, MA. Contact us today to learn more about becoming a medical assistant.