Interested in learning how you can become a practical nurse? Enjoy working in a team environment with colleagues that care about their patients? To become a practical nurse, you will need to pass a state-approved educational program from a vocational school that will prepare you to take the NCLEX-PN. First, we will investigate what a licensed practical nurse does on a day-to-day-basis. Then, explain about vocational programs in Practical Nursing (LPN) and how to become licensed to be a LPN. Finally, we will talk about what is on the NCLEX-PN Test.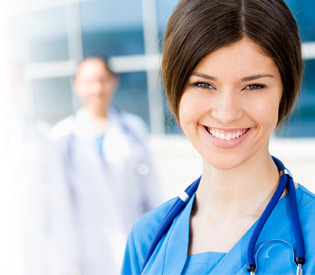 Licensed practical nurses (LPNs) provide basic medical care. They work under the direction of registered nurses and doctors, according to the U.S. Bureau of Labor Statistics. Licensed practical nurses typically do the following:
Monitor patients' health and check vitals
Administer basic patient care
Provide for the basic comfort of patients
Discuss and educate the patient about the care they are providing
Listen to the patients' concerns
Report patients' status and concerns to registered nurses and doctors
Keep records on patients' health, procedures, treatment and vitals
Vocational Program in Practical Nursing (LPN)
Becoming a licensed practical nurse requires completing an approved educational program. The nursing programs at a vocational school award a certificate or diploma. These programs typically take less than 1 year to complete. Practical nursing programs combine classroom learning in subjects such as nursing, anatomy, biology, physiology, mathematics, medical terminology, and pharmacology. All programs also include supervised clinical experience.
How Do I Become Licensed to Be a LPN?
After completing a state-approved educational program, prospective licensed practical nurses can take the National Council Licensure Examination (NCLEX-PN).
What is on the NCLEX-PN?
The NCLEX-PN test is broken up into four major Client Needs categories. They include safe and effective care environments, health promotion and maintenance, psychosocial integrity and physiological integrity. Further, safe and effective care environments are broken down into coordinated care and safety and infection control. Physiological integrity is broken down into base care and comfort, pharmacological therapies, reduction of risk potential and physiological adaptation. Throughout the Client Needs categories and subcategories, there are fundamentals to the practice of practical nursing, they include clinical problem-solving processes, caring, communication and documentation, teaching and learning, and culture and spirituality.
The percentage of the total NCLEX-PN test breaks down into approximately 35% on Safe and Effective Care Environment questions, 10% on health promotion and maintenance, 12% on psychosocial integrity and 43% on physiological integrity. The NCLEX-PN is administered to candidates by Computerized Adaptive Testing (CAT). Each candidate will get a unique testing experience because computer technology selects items to administer that match the candidate's ability. The NCLEX-PN candidate must answer at least 85 questions and can answer up to 205 questions during the five-hour time period. The passing score for the NCLEX-PN is 0.00, which means the candidate must answer medium difficulty questions correctly at least 50% of the time.
The beliefs that influence the NCLEX-PN test plan, according to the National Council of State Boards of Nursing (NCSBN), are that "people are finite beings with varying capacities to function in society. They are unique individuals who have defined systems of daily living that reflect their values, cultures, motives and lifestyles. Additionally, people have the right to make decisions regarding their health care needs and to participate in meeting those needs. The profession of nursing makes a unique contribution in helping clients achieve an optimal level of health in a variety of settings."
What Specialty are You Interested in?
Practical nursing can work in a variety of work environments including clinics, hospitals, long-term care and other healthcare facilities. A practical nurse can also specialize in a specific type of care including pediatric, geriatric, cardiovascular or one of many different specialty areas of nursing.
Interested in learning more about how you can be a nurse in New York or Massachusetts? Ready to start a Practical Nursing (LPN) Program? The Practical Nursing Certificate program is a credit-bearing, college-level program that prepares its graduates for licensure as a practical nurse (LPN) in the State of New York or Massachusetts. Graduates of this Practical Nursing Certificate program will be well prepared for successful passing of the NCLEX-PN examination, licensure as a Licensed Practical Nurse in New York State or Massachusetts, and subsequent employment in the field. The Practical Nursing Certificate program at Mildred Elley is comprehensive, designed to give you the clinical and lab skills necessary to become a successful Licensed Practical Nurse. Our school instructors come from a diverse background within the medical industry, helping to provide you with the tools necessary to fulfill your goal to become a Licensed Practical Nurse.
Contact us today to learn more about becoming a nurse.