Interested in online certificate programs? There are many benefits to taking certificate programs online. You can watch lectures while sitting in your pajamas at home, there is no commute and you have the flexibility to plan your study time around your everyday life. You have the flexibility to take classes when you have time and at the pace you need to succeed. Online certification programs offer individual attention from teachers and classmates, you learn life lessons like self-discipline and time management, and there are specialized certification programs that will help you get a new career in coding and transcription.
Benefit #1 – Take Classes from Home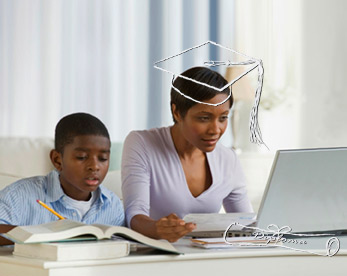 As an online student, you get to work at your own pace, watch lectures when you want and study when your time is available. You don't have to worry about making it to class on-time or sitting in a 9 o'clock class. By taking classes from home the online student won't have to fight traffic, find parking, leave work early or miss family time.
Benefit #2 – Comfort
You can set up your learning environment in the comfort of your own home. No sitting in classes for hours in uncomfortable desks or listening to lectures for hours. The online student gets to pick their favorite chair or couch to learn in comfort.
Benefit #3 – No Commute
Not only will you save time by taking classes online but you will also save money. No cost for gas, food, and other expenses that arise when they commute to college. If you take public transportation that is even more reason to take classes online.
Benefit #4 – Flexibility
You can plan your studies around the rest of the day. Have commitments in the morning or work during the day? Online classes give you the flexibility to study when you need, leaving time to take care of your other commitments like work, kids or taking care of a family member.
Benefit #5 – Self-Paced Learning
For online students that need more time to learn, having a self-paced learning schedule can help. Maybe you need additional time to read the class materials or want to watch lectures twice while taking notes. All the online materials are available 24 hours a day, 7 days a week. An online certificate program will allow you to learn at your own pace and help you achieve that new career.
Benefit #6 – Individual Attention
Since you are attending class online, most of the interaction you will have with teachers and classmates will be by email or video chat. This gives you one-on-one access to teachers that would be hard to get while attending on-campus classes. You will have the time to think about and articulate what you want to say when communicating by email. The responses from the teacher and classmates will be specific to the questions that you asked and will be much more helpful than general information given during on-campus lectures.
Benefit #7 – Learn Life Lessons
The fact that online classes are taken at home helps you learn other life lessons. The online student learns self-discipline and time management skills. The online student learns to focus on their studies which will help them while working in an office setting with phones ringing and people talking. The online student also gains time management skills by setting goals and deadlines for themselves. Meeting those goals and prioritizing one's time will help the online student prepare for the real world.
Benefit #8 – Specialized Certification Programs
Mildred Elley offers hospital-based coding certification, medical transcription certification and non-medical transcription certification. Looking for a career in high demand? Mildred Elley offers assistance throughout the job search process and connects you with career opportunities after the completion of your certification program. Mildred Elley also offers life-long career services to each graduate.
Hospital-Based Coding Certification – The medical coding professional will use medical terminology and ICD-10 standards to code medical records, charts and to process billing. Hospital-Based Coding students receive comprehensive course materials and meaningful opportunities to practice the application of ICD-10 through guided exercises in practical applications, including classification of medical data and assignment of diagnostic codes and procedures in patient records.
Medical Transcription Certification – Medical Transcriptionists dictate letters, progress notes, pathology reports, history and physical reports, discharge summaries, consultation reports and operative notes by listening to voice recordings of physicians and other health professionals. Medical Transcriptionists interpret and transcribe the terminology and abbreviations given by the health professions to create a permanent file for patients' records.
Non-Medical Transcription Certification – Similar to Medical Transcriptionists, Non-Medical Transcriptionists dictate letters, progress notes, physical reports, consultation reports and operative notes by listening to voice recordings of business professionals.
Do these 8 benefits of attending online certificate programs interested you? Mildred Elley offers a diverse set of online programs in the transcription and coding fields. You can do transcription for medical offices or law firms. You can work from home or in a physician's office. You can decide how much money you want to make by how much work you produce. Contact Mildred Elley today to learn more about the online certification programs available.