Many career colleges offer specific programs online and the opportunity to take classes both at the campus or online helping you fit school into your busy schedule. Do small class sizes, multiple career programs and even online programs interest you? Are you looking for night and weekend classes? Interested in focused curriculum and hands-on training? Need help getting a job after you graduate? If you answered yes to any one of these questions a career college might be the right choice. Here are 7 benefits of attending a career college.
#1 – Small Class Sizes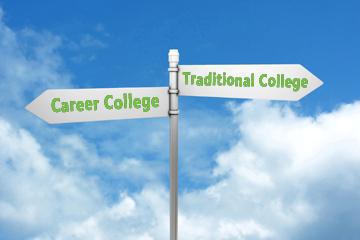 You get individual attention when you attend a career college. Class sizes are large at universities but at career college the environment is tight knit. The career college student will get additional attention from the teachers and forge life-long relationships with classmates. Many programs allow students to work in small groups to learn team building skills and prepare them for the workforce.
#2 – Many Programs to Choose From
Many career colleges will have a wide variety of programs from medical assisting to business management. Whether you want to become a medical assistant, practical nurse, massage therapist, paralegal, IT technician, cosmetologist or business professional a career college has many choices to find your dream career. All of these programs can be completed in a short period of time so you can get out in the workforce and start the career of your dreams.
#3 - Online Programs
Can't find a local career college near you? Many career colleges offer online programs that are exactly like the on-campus programs. The online programs offer the same teachers and curriculum. Whether you want to learn at your own pace, or be led by an instructor in an online environment, career colleges can help you fit an education into your busy lifestyle. Many online classes are taught live, in an interactive online environment, where you'll be able to see and speak to your instructor.
#4 - Flexible Schedule
Many career colleges offer day, evening and weekend classes because some students have personal responsibilities but still want to get a good education. Do you have a job during the day or take care of family? Choose a career college that best fits your schedule and move toward that new career you have been dreaming of.
#5 – Focused Curriculum
At a career college, you can train to for your career in as little as 12 months. The career college programs teach you exactly what you will need to succeed in your new career. Many career colleges also work with local companies to focus curriculum on what the student will actually encounter in the real world. Career colleges focus on the core curriculum without all the wasted time on electives so you can start your dream career right away.
#6 - Hands-on Training
Looking to get work experience so you can get a job. It is a chicken and egg dilemma, but not anymore. Many career colleges offer externships for students to get hands-on training to learn about the program in the real world. This helps students learn about the job responsibilities and network with colleagues to find a job after graduation. An externship is a great way to forge relationships with colleagues and employers when it is time to find a new job in the given field.
#7 – Career Services
The faculty and staff at career colleges are committed to assisting graduates in securing the best possible employment opportunities available in their chosen professional career fields. The career services team is the primary contact for students who have career-related issues. Students are well prepared for their job search through the variety of courses completed. Career college students learn job search techniques, resume writing, interviewing skills and specific career-related strategies.
The career college also develops and maintains close relationships with local employers, many of whom list their job openings with the career college. The staff usually forwards the resumes of interested and qualified students and graduates directly.
Ready to attend a career college? Mildred Elley knows how crucial up-to-date employment skills are to your professional development, so our promise to you is that we will always continue to update our career courses and redesign our programs to reflect current trends and make you the most qualified and desirable candidate for your future employer.